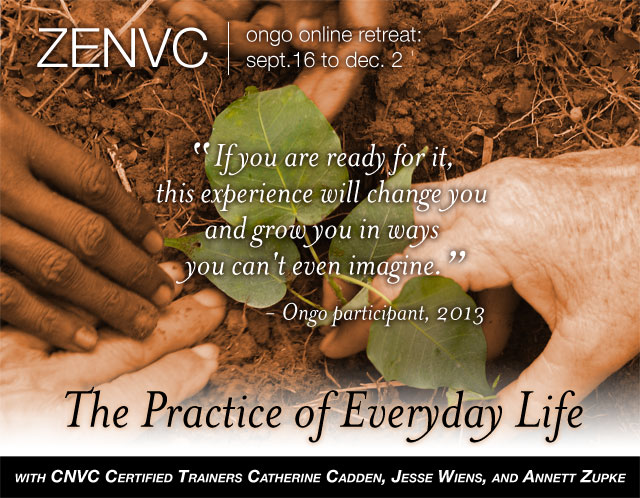 "I thoroughly enjoyed the Ongo experience. For me, the practices are simple and so doable that I have continued many of them after Ongo. I am finding that though simple, their cumulative effect is powerful.
A burden that I carried for 8 years has been healed using the combined practices of the breath, self empathy and speaking truth… I have grown in confidence in living and sharing NVC."
– Ongo participant, December 2016
Today, many of us need an environment of peers, inspiration, and guidance to support the cultivation of wisdom and compassion in our lives at home, work, and in our communities. Practices like Nonviolent Communication (NVC) and Buddhist meditation can be challenging to integrate outside of the workshop or retreat setting. Everyday struggles, not to mention our concerns around big issues like climate change, social injustice, poverty, and more can easily overwhelm our best intentions for how we want to live.
The Ongo Online Retreat is a three month intensive that anyone can participate in using the phone and Web, to develop skillfulness, depth of compassion and awareness – in the midst of everyday life.  Ongo offers direct, personal guidance from experienced teachers and compassionate support from a global community of practitioners. Together, we will practice both on and off the meditation cushion.  There are no prerequisites to join this program, other than a desire to learn and practice these teachings in your daily life.
DEEPEN your self-awareness and presence through meditation, Mindfulness practice, and applying Buddhist teachings to everyday life situations
EXPAND your ability to respond compassionately and courageously to loved ones, not-so-loved ones, and "what-the-#%?!" ones, by using the skillful means of Nonviolent Communication
Cultivate SUPPORT from teachings and teachers who walk their talk, and companionship through a leader-full international community that shares your deep intention and commitment
Through phone, email, and Web, we bring the retreat to you:
Daily – Five days a week, you will receive emails with a specific practice or remembering for your day, including guided audio meditations and video examples.
Weekly – Each week, you will have access to either a recorded teaching created specifically for this Ongo Online Retreat, or a live "Wisdom Hall" tele-gathering with Catherine, Jesse, Annett and the community for learning, connection, and practice (To find out the weekly call times, see below)
Weekly – Each week, you will also meet with a fellow community member for support and practice (scheduled individually). Guidance and practices for these meetings will be emailed to you both.
Weekly or Monthly – One-on-one hour-long private sessions by phone or video conference with Catherine, Jesse, or Annett (scheduled individually). You can sign-up to have these meetings either weekly or monthly.
Anytime – Access to the Ongo online forum for discussion, questions, and support with Catherine, Jesse, Annett, and the community.
PARTICIPANT COMMITMENT:
The nature of a phone and online-based practice period is that it requires extra commitment on the part of the participants to give it the focus and depth found in an in-person intensive. To promote this focus and depth, we ask that anyone considering the Ongo Online Retreat make a general commitment to participate in the live tele-gatherings, your weekly meetings with your "Ongo Buddy", your private sessions with Ongo leaders, and minimally, thirty minutes, three times a week, to read and reflect on the emailed practices. We make this commitment with full acknowledgement that there will be times in which we may "fall short", due to various life circumstances. Both the commitment to practice and the "falling short" are integral parts of the Ongo Online Retreat.  If you have any questions about this, please don't hesitate to contact us.
"As I've shared with friends several times now, the Ongo has been the best way to learn NVC [Nonviolent Communication] that I've found. The wisdom of integrating the learning of new communication with the deep personal work that it requires really serves the transformation. And, the "daily life" format is so effective as real, honest, challenging practice. I will continue to share that nothing I've done so far, with regards to NVC, has been as powerful."
– Ongo participant, June 2010
LIVE "WISDOM HALL TELE-GATHERING" TIMES:
The live tele-gatherings with Catherine, Jesse, Annett, and the Ongo community will take place on September 16, October 14, November 11, and December 2, at 12:00 PM Sundays (U.S. ET/New York) / 6:00 PM (CEST/Berlin).  To see your local time equivalent for the first call, click here.  Note that, due to time changes across the globe, your local time equivalent may change during the 3 months of Ongo – if you are not on U.S. Eastern Time, we highly recommend that you use this tool online to check the times on each of the 4 call dates before signing up. All calls except the first and last call will be one-and-a-half hours long.  To give more time for opening and closing, the first and last calls will each be two hours long. 
ABOUT JESSE AND CATHERINE
"JOTO" JESSE WIENS lived and trained in Soto Zen monasteries for seven years. Among his many teachers, he was particularly influenced by Tenshin Reb Anderson, Soshin Teah Strozer, and Toni Packer. During that time, he also encountered the teachings of Nonviolent Communication (NVC), studying with founder Marshall Rosenberg and participating in trainer Robert Gonzales' NVC LIFE (Living, Integrating, Fully Embodying) program for three years. In 2006, Jesse founded ZENVC as a vehicle for bringing the teachings of Zen and NVC together. Today, he continues to study these teachings by living them in his work and play as a Center for Nonviolent Communication Certified Trainer.
CATHERINE CADDEN has been an educator since 1987 finding alternatives to teaching, learning, and conflict resolution that work with the principles of nonviolence. Her journey led her to study with a number of renowned teachers, among them Jack Kornfield, Elisabeth Kubler-Ross, Sahn Nicole Hill, Ram Dass, Marshall Rosenberg, and Stephen and Ondrea Levine. In 1997, Catherine founded the TEMBA School, a visionary K – 8 academic program rooted in nonviolent philosophy, NVC, mindfulness, sustainable living, and artistic expression. In 2009, her educational philosophy and story of TEMBA, Peaceable Revolution Through Education, was published. As a Certified Trainer with the Center for Nonviolent Communication, Catherine brings over 15 years of experience practicing, living and teaching Nonviolent Communication (NVC) internationally to participants of all ages.
TOGETHER, Catherine and Jesse have worked on six continents with NGO's, families, intentional communities, inmates, youth, Buddhists, Christians, Muslims, Jews, Baha'i, Hare Krishnas, atheists, activists, liberals and conservatives. They are coauthors of The Ongo Book: Everyday Nonviolence and hold an unwavering confidence that this work is universally beneficial.
ABOUT ANNETT
ANNETT ZUPKE has been working with international groups for 20 years on cross cultural communication. In the past 10 years, her work has been mainly grounded in the spirit of NVC and she is certified with the CNVC. As a trainer and conflict coach/mediator she has worked in a wide spectrum of environments, from corporate to schools, prisons, spiritual groups, and families. Annett is a passionate practitioner of dyad meditations that support inner discovery. She enjoys using her fine tuned listening skills to support others in sharing and acknowledging the many layers of human experience that usually get overturned in our busy lives. Together with colleagues in Germany, she leads workshops on NVC and Living Compassion to create learning environments where depth, playfulness, compassion, laughter and tears can flow easily. She loves traveling, being in nature and with friends and family.
COST:
We offer two options, with three possible payment plans for each:
Ongo with MONTHLY Private Sessions with Catherine, Jesse, or Annett (3 total)

Pay in full upfront: $585 USD / 508€ before September 16th
Pay monthly: $215 USD / 186€ payments by Sept.16th, Oct.15th, and Nov 15th ($645 USD / 558€ total)
Sign up with a friend and pay monthly: $195 USD / 169€ monthly payment by Sept.16th, Oct.15th, and Nov.15th ($585 USD / 508€ total)

Ongo with WEEKLY Private Sessions with Catherine, Jesse, or Annett (12 total)

Pay in full upfront: $1233 USD / 1070€ before September 16th
Pay monthly: $450 USD / 390€ payments by Sept.16th, Oct.15th, and Nov 15th ($1350 USD / 1170€ total)
Sign up with a friend and pay monthly: $415 USD / 360€ monthly payment by Sept.16th, Oct.15th, and Nov.15th ($1245 USD / 1080€ total)
REGISTRATION IS CLOSED
SIGN UP HERE